Review: The Emperor's Soul, by Brandon Sanderson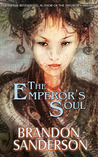 The Emperor's Soul by Brandon Sanderson
My rating: 3 of 5 stars
Sanderson was recommended to me as a genre author worth reading. I'm not sorry I followed up on that recommendation.
The Emperor's Soul presents an intriguing story of a forger who is able to create reproductions through magical carving of seals, inscribed with the history and detail of the object and its maker. In fact, she is so good at her art she is employed by the Emperor's most trusted advisers to create a seal which will return the Emperor to himself after a botched assassination.
Rich with character studies, environmental detail and intrigue, this is an engaging bit of escapism.
by