Review: Leaving Tomorrow, by David Bergen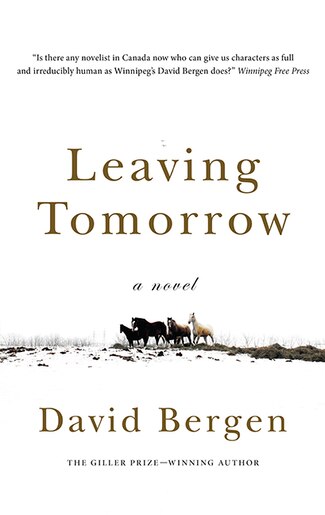 It seems every time I pick up a novel associated with the Giller Prize, I am disappointed or frustrated, a response which likely has more to do with my own tastes or lack thereof, than of the literary works which garner such esteem.
However, Leaving Tomorrow, by David Bergen, once again had me scratching my head.
The novel is set in Alberta's ranch country during America's Vietnam War, and explores the spiritual and physical journey of a Mennonite raised individual, Arthur, who is, frankly, a self-indulgent, navel-gazing twat. Bergen's treatment of the character does nothing whatsoever to endear the character to the reader, so that by the very anti-climatic climax, you wonder how you're ever going to recover those hours spent on this witless journey from Alberta to Paris to Alberta again. It is a pretentious novel, with a pretentious protagonist, filled with smug literary allusions, and not-quite scintillating sexual dalliance. This is allegedly a novel which explores the complicated lives of ordinary people. However, if the characters in this novel are ordinary, well, so is Donald Trump.
But I have been known to be hard to please, a harsh critic, and even a twat myself. So, if you like the type of CanLit which earns CanLit its negative response from the average reader, then knock yourself out. For myself, I think the novel does a disservice to the term CanLit and is simply pretentious.
Two stars.
by