Apparently I need a lot of kitchen therapy this week. Sunday I treated us to a wonderful feed of ribs. They were so ridiculously easy, and just wildly yummy, I thought I'd share that experiment as well.
1 pkg (about 16 ounces) fresh or frozen cranberries
3 Clementine oranges (or one large regular orange)
2 large cloves garlic
1 large onion
1 tablespoon Tobasco Sauce
1 cup maple syrup
1/4 cup balsamic vinegar
1/2 cup Madiera
1 teaspoon salt
1 teaspoon cracked black pepper
1 pound pork ribs per person
In a food processor chop the cranberries, oranges (whole, unpeeled), garlic and onions until you get a coarse sort of chutney or relish. Decant into a large glass pan or sealable plastic bag. Add the remaining ingredients (except the ribs) and stir well. Place the ribs into the mixture, cover the pan or seal the bag, and allow to marinade overnight in the fridge.
The next day preheat the oven to 200F degrees. Place the ribs, marinade and all in a covered, ovenproof pan or dish, and roast on low heat for about five hours.
I served this with a pilaf of brown rice, lentils and asparagus. Simply divine.
If you're at all interested in some interesting and delicious recipes, created by an ordinary book for ordinary people, consider my cookbook,
Stonehouse Cooks,
available in print and eBook from booksellers everywhere.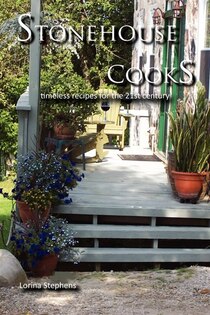 Available from booksellers everywhere
In print and eBook
by