Slow-roasted pork shoulder roast, and more
It's Sunday. A kitchen therapy day. I had a pork shoulder roast in the freezer, bone in, saddle attached, and thought I'd experiment with a fusion of eastern fragrances and tastes in a slow-roasted environment.
pork shoulder roast
The ingredients.
olive oil
bulb of whole fennel, stalks included, washed and sliced thickly
red pepper, washed, seeded and cut into chunks
whole bulb of garlic, peeled and minced; or frozen, pureed garlic scapes, about 2 tbsp.
whole onion peeled and cut into chunks
zest of one lemon
lemon, rind cut away, and fruit cut into chunks
a tart apple, peeled, cored and cut into chunks
2″ ginger root, peeled and minced
2 long peppers cracked (if you don't have access to long pepper, you can use cinnamon or grains of paradise, about 2 teaspoons)
large red chilli, finely minced
2 tsps sea salt
5-7 pound pork shoulder roast, bone in, saddle attached.
fennel bulbs
Preheat oven to 200F. Liberally coat a medium roasting pan with olive oil. Toss in prepared fruit, vegetables and seasonings, drizzle with a little more olive oil, and combine to evenly distribute flavour base. Make a hollow in the mix for the pork.
fresh garlic scapes
Score the saddle of the roast with a sharp knife, cutting through almost to the flesh. Place roast saddle side up in the hollow off the flavour base in the pan. Cover with foil.
long pepper
Roast for about five to six hours at 200F. When roast is nearly falling off the bone, turn heat up to 400F. Remove foil for last 30-60 minutes to allow the saddle to crisp.
grains of paradise
Serve over steamed brown rice and mushroom pilaf with a green salad.
Serves six to eight.
Leftovers can be made into a wonderful, fragrant soup with the following ingredients:
bone of shoulder roast
water
olive oil
large onion peeled, and finely minced
leftover pork roast and vegetable/fruit mix
2 cups shredded greens like bok choy, romaine, spinach, kale, or chinese cabbage. You could also use bean sprouts
2 litres of chicken or vegetable stock
1/2 cup soya sauce
1 tbsp fish sauce (optional)
In a large, heavy soup kettle pour enough cold water to cover the bone of the shoulder roast. Cover and place on high heat until water comes to a boil. Reduce heat to minimum and simmer for about 60-90 minutes.
bok choy
Remove from heat. Strain stock. Remove what meat you can from the bone and add to stock. Discard bone.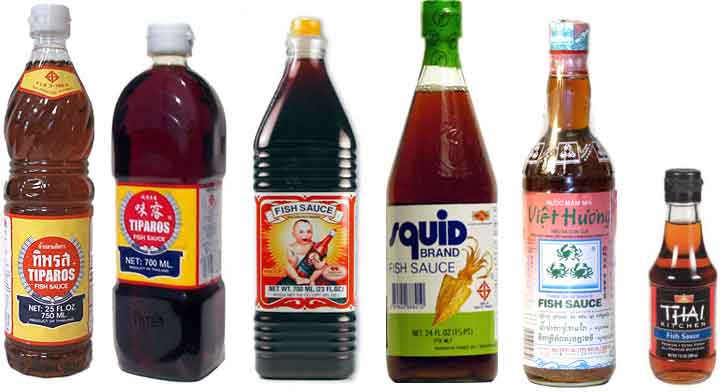 various fish sauce brands
Return pot to stove. Add enough olive oil to sautee the prepared onion, and cook until colour begins to develop. Add prepared greens, leftover pork and vegetable/fruit mix; stir and cook for about 5 minutes. Add stock from bone and about an additional 2 litres of chicken or vegetable stock, the soya and fish sauce. If you wish a spicier soup, add more chilli peppers.
Bring to a boil and reduce heat. Simmer for about 5 minutes.
Serves 6-8.
Freezes well.
by